Tire Services
at Land Rover Houston North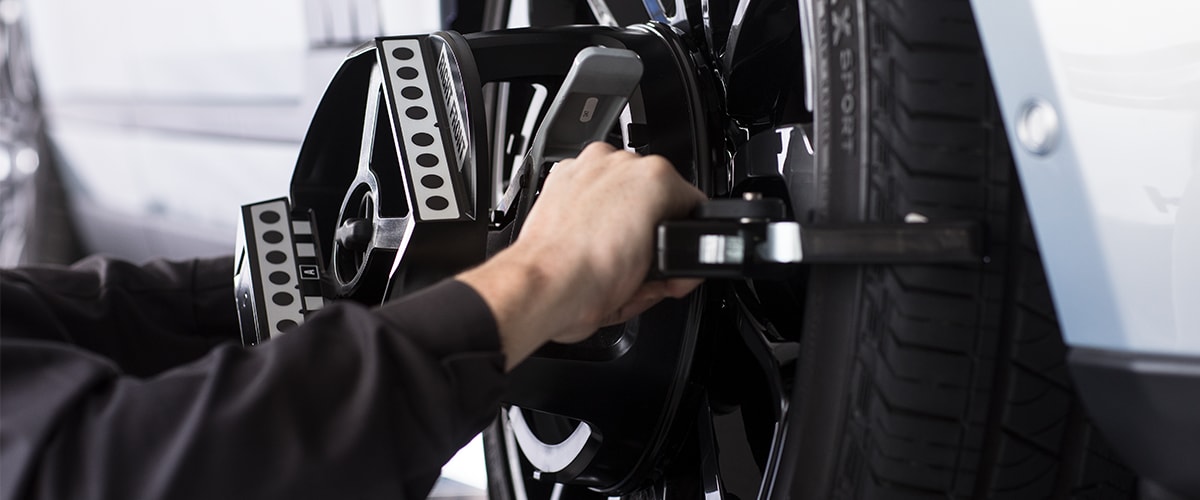 Learn More About Replacing the Tires on Your Land Rover
The tires on your Land Rover are some of the most important parts of the vehicle, being in constant contact with the ground and helping you to maintain the best traction that you can. Our Houston-based Land Rover service team wants to help you get into an SUV that you will be able to depend on no matter where you go, and getting the right tires is an important step in achieving that.
Which Tire is the Right Tire?
There are many tires on the market, all ranging in size and capability, but our team will make sure you are getting the one that is right for your Land Rover or Range Rover SUV. Having tires that are too large or too small will negatively affect your fuel efficiency and can hurt your performance; these disadvantages are amplified when you use your Land Rover for off-roading. Our tire experts at Land Rover Houston North are here to help you avoid these related issues with high-quality, properly fitted tires for your Land Rover.
Caring for Your Tires
There are many steps that you can take to put as much time between tire replacements as possible.Tires can be a hefty investment, but caring for them will keep you with dependable ones for a long time. Getting tire rotations when they have between 6,000 and 8,000 miles will ensure the tread doesn't wear down too quickly or unevenly, and keeping them properly inflated will help avoid a blowout or damage to your rim.
Why to Bring Your SUV to Land Rover Houston North
All maintenance steps can be done by our professional team of service technicians at Land Rover Houston North. We can also make sure you are equipping the right tires for your vehicle. We will take the time and care that is needed to get the job done properly, making sure you will be able to trust and enjoy your Land Rover for years to come.
We encourage you to visit our Land Rover service center soon if you think it is time for tire maintenance, or if you notice anything wrong with your tires, so that our team can take care of them for you.
Hours
Monday

7:00AM-7:00PM

Tuesday

7:00AM-7:00PM

Wednesday

7:00AM-7:00PM

Thursday

7:00AM-7:00PM

Friday

7:00AM-7:00PM

Saturday

8:00AM-2:00PM

Sunday

Closed